Did You See My Movie??!!
Did You See My Movie??!!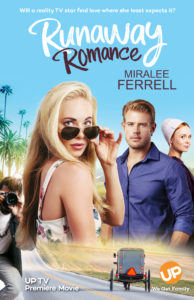 Last night, there was a lot of excitement at my house. We watched the movie version of Runaway Romance, my contemporary romance, on UP TV (you can find UP on Direct TV, DishNet, Charter, and others).
The producer and director did a marvelous job! I loved the actors and actresses they chose, as well as the quality work and beautiful setting in Kentucky.
If you haven't snagged a copy of the ebook or print version yet, you may want to read it–the book has a lot more detail/depth and an additional story line about a homeless woman in town, that I think you'll enjoy.
If you missed it, it's going to air one more time on Sunday, Jan. 14th, on the UP channel at 5 p.m. Eastern. I'd love to hear your thoughts if you've read the book or watched the movie!