New Middle-Grade and Early Reader Series
New Middle-Grade and Early Reader Series
Kate's Big Dream
Book one in the Kate's Friends series for ages 5-8–Full Color pictures
Kate has a very big dream. It's almost her eighth birthday, and she wants a pony more than anything. But she lives in town, and her parents said there's no room for a pony. Could Kate keep it in her bedroom or somewhere else? Can she be happy if she doesn't get a pony?
Kate and Friends series is full of life lessons for children ages 5-8.
This is the prequel series to the middle-grade series, Horse and Friends, featuring Kate and the friends she meets when she moves to a new town.
Available soon in paperback on Amazon
Ebook available now here
New Release!
Rebel Horse Rescue–Book Five–available to order through stores everywhere
Or purchase for your Kindle
Summer is winding down for Kate and her friends when a surprise visitor appears at her family's stable—a beautiful bay horse wearing a halter and a bad attitude. Dubbing the horse "Rebel," the friends set out to find the horse's owner. Where did he come from, and why are horses all over the area disappearing from their pastures and paddocks? It's a mystery that even the sheriff can't figure out, so Kate decides to head up the investigation. When Kate's autistic brother, Pete, develops a strong connection to the new arrival, Kate wonders—did God bring Rebel to them for a bigger purpose?
Blue Ribbon Trail Ride–
Book Four–Available at Retailers Everywhere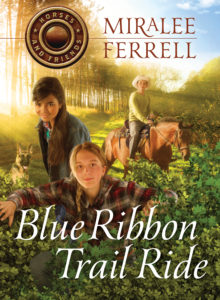 Thirteen-year old Kate and her friends came up with the perfect way to raise money for her autistic younger brother and others to attend summer camp—a horse scavenger hunt! As local businesses donate money and prizes, Kate keeps the entry fees in her mom's antique jewelry box.
But when the box and the money disappear, Kate and her friends must unravel the clues, hold on to hope, and solve the mystery along the Blue Ribbon Trail Ride.
 Mystery Rider–Book Three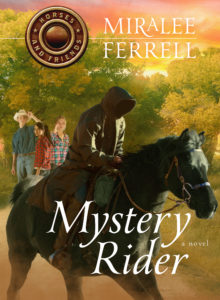 The mysterious rider pivoted their direction, obviously startled. Then horse and rider disappeared around the corner like a wisp of smoke on the wind.
Thirteen-year-old Kate Ferris has a problem. Melissa Tolbert, a wealthy girl who has been snotty to Kate and Tori at school, is one of the boarders at Kate's family's new boarding stable. When Melissa suddenly turns nice, Kate is suspicious. The last thing she needs is more trouble. Then a stunning black horse and mysterious rider trot up the road past Kate's house at dusk. Is it Melissa, playing a dangerous game? Or might the horse be stolen? Kate and friends Tori and Colt are determined to solve the mystery.
A horse-lover's dream-come-true wrapped in true friendship, kept promises, and surprising revelations.
Silver Spurs–Book Two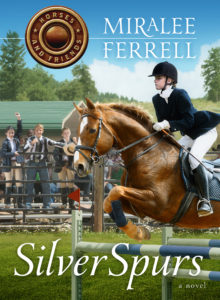 Kate's dream of owning a horse has finally happened. But now her best friend Tori has no money to buy a horse. So Kate comes up with a plan—she'll raise money by boarding horses and hosting a show in her family's barn.
It seems the perfect solution until Melissa, the girl who disses Kate and Tori at school, shows up to board her horse, determined to compete in their show and win the silver spurs. Will their plan be ruined—or does God have something better in store for them all?
Silver Spurs is a tale of overcoming fears and trusting God with your dreams.
A Horse For Kate
A horse of her own would be awesome. But Kate figures that might be a long way away, especially since she had to give up riding lessons and move to her late g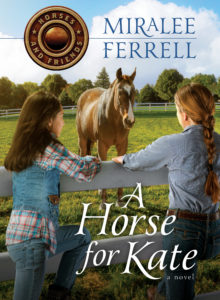 randfather's farm. Besides, it would be a lot more fun to have a best friend to ride with. When Kate discovers a barn on their new farm that's perfect for a horse, and a dusty bridle too, she starts to think that her dream might come true. Then she meets Tori at school, who is totally the best. So when they discover a thoroughbred that appears to be all alone, could it be the answer to her prayers? Maybe. If she can convince her dad … and figure out what's going on with that horse.
Book One in the Horses and Friends Series
Available NOW at Booksellers everywhere
Buy any Horses and Friends books at the following retailers: