Click here to view the pictures of book locations we've visited. Find many of my books at these online retailers:
Want to try a sample of Blowing on Dandelions? Click here for the entire first chapter. Would you like to read a little more of the story from Outlaw Angel? Right-click here to save or click here to read an unpublished epilogue to the book. Warning: this contains spoilers and should not be read without reading the book first. Enjoy! ———————————————————–
Runaway Romance–Available Now!
An UP TV Original Movie based on the book, coming January 7, 2018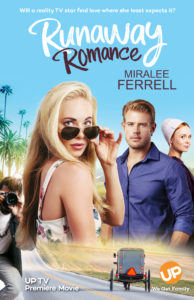 When a reality TV star meets the reality of life, will it be her downfall or her salvation?
Ann Stanway had it all—a starring role in a reality show, an adoring boyfriend, and a sparkling future with limitless possibilities. Until the rules changed and the life she'd thought was real no longer existed. Leaving L.A. seems like her only option, and she lands in Kentucky at a quiet Amish inn—as far removed from her past as possible. Now she knows what was missing in her life–peace, true friendship and, dare she hope, a man who accepts her for who she is–or at least who he thinks she is.
Hunter Lewis is intrigued by the new woman staying at his friend's Amish inn. Annie appears to be what she claims, but she's secretive and won't open up. He's been burned by a woman before and can't tolerate deception. But his interest in Annie is growing, and the attraction seems to be mutual—until something happens that makes Hunter question everything he'd thought was real. Dare he risk his heart, when he's certain Annie is keeping secrets?
Can their new romance withstand the pressure, or will Ann choose to run again?
Outlaw Angel (formerly Love Finds You in Sundance, Wyoming)
Available in Kindle, Paperback and Kindle Unlimited on November 1, available for pre-order now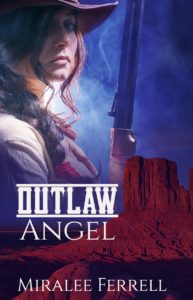 Angel Ramirez is tired of living a lie.
But can she learn to live like a lady?
On the run from a dangerous outlaw, Angel works her way across several states disguised as a boy and working as a varmint tracker and horse wrangler. After taking a job on a Wyoming ranch owned by a bachelor and his widowed sister, she finally reveals her true identity and must fight to prove her worth as a ranch hand while somehow discovering her role as woman.
Hiring a woman doesn't sit well with Travis Morgan, and the dark-haired beauty is causing a
ruckus among his cowboys. Just as Angel decides she'll never be able to please her boss, an
unexpected surprise arrives from across the ocean and makes trouble on the ranch. Will Angel leave with the person who's come so far to claim her?
Finding Love in Last Chance, California
Releasing late October, 2016–Formerly titled Love Finds You in Last Chance, California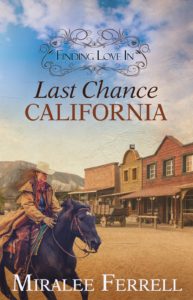 It's 1877 and Alexia Travers is alone in the world. Her father has died unexpectedly, leaving her burdened with a heavily mortgaged horse ranch. Marrying one of the town's all-too-willing bachelors would offer an easy solution, but Alex has no interest in marriage.
Instead, she dons men's clothing and rides the range, determined to make the ranch a success on her own.
Help arrives when Justin Phillips, an acquaintance of her father's, comes to Last
Chance with his young son. Justin''s and Alex''s combined effort to save the ranch quickly turns into a fierce competition between cowboy and tomboy. But when disaster threatens the Travers' Ranch, they must work together to save someone they both love. Can these two independent people learn to depend on God —and on each other?
Finding Love In is a series of full-length romance novels that give readers a peek into local life across the United States. The novels are uniquely named after actual American towns. This means that each fictional story draws on the compelling history or unique character of a real place.
Rebel Horse Rescue
Book Five in the Horses and Friends Series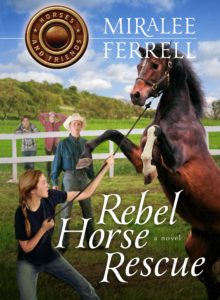 Summer is winding down for Kate and her friends when a surprise visitor appears at her family's stable—a beautiful bay horse wearing a halter and a bad attitude. Dubbing the horse "Rebel," the friends set out to find the horse's owner. Where did he come from, and why are horses all over the area disappearing from their pastures and paddocks? It's a mystery that even the sheriff can't figure out, so Kate decides to head up the investigation. When Kate's autistic brother, Pete, develops a strong connection to the new arrival, Kate wonders—did God bring Rebel to them for a bigger purpose?
Blue Ribbon Trail Ride
Book Four in the Horses and Friends Series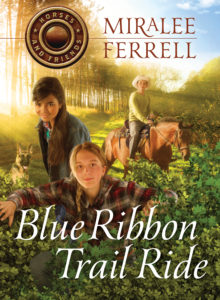 Thirteen-year old Kate and her friends came up with the perfect way to raise money for her autistic younger brother and others to attend summer camp—a horse scavenger hunt! As local businesses donate money and prizes, Kate keeps the entry fees in her mom's antique jewelry box.
But when the box and the money disappear, Kate and her friends must unravel the clues, hold on to hope, and solve the mystery along the Blue Ribbon Trail Ride.
Mystery Rider
Book Three in the Horses and Friends Series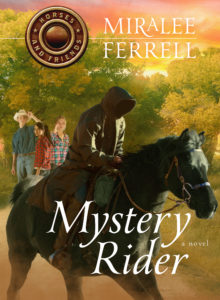 In the third installment in the Horses and Friends series, thirteen-year-old Kate Ferris already has one problem. Snooty, well-to-do Melissa is boarding her horse at Kate's family stable. When Melissa suddenly turns nice, Kate is shocked … and suspicious.
The last thing she needs is more trouble. So when a hooded rider appears—and then disappears—on a stunning black horse outside her home, Kate isn't sure if Melissa is playing a trick or something more dangerous is going on. Either way, Kate and her friends will need an extra measure of faith and courage to solve this mystery.
Silver Spurs
Book Two in the Horses and Friends Series
Available NOW at Booksellers everywhere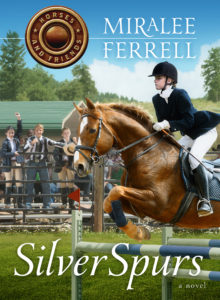 Kate's dream of owning a horse has finally happened. But now her best friend Tori has no money to buy a horse. So Kate comes up with a plan—she'll raise money by boarding horses and hosting a show in her family's barn.
It seems the perfect solution until Melissa, the girl who disses Kate and Tori at school, shows up to board her horse, determined to compete in their show and win the silver spurs. Will their plan be ruined—or does God have something better in store for them all?
Silver Spurs is a tale of overcoming fears and trusting God with your dreams.
A Horse For Kate
Book One in the Horses and Friends Series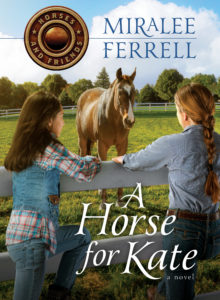 A horse of her own would be awesome. But Kate figures that might be a long way away, especially since she had to give up riding lessons and move to her late grandfather's farm. Besides, it would be a lot more fun to have a best friend to ride with. When Kate discovers a barn on their new farm that's perfect for a horse, and a dusty bridle too, she starts to think that her dream might come true. Then she meets Tori at school, who is totally the best. So when they discover a thoroughbred that appears to be all alone, could it be the answer to her prayers? Maybe. If she can convince her dad … and figure out what's going on with that horse.
Fun Contemporary Romance Collection–Only $2.99 for four great books in one!
In Love and War–by four multi-published Christian authors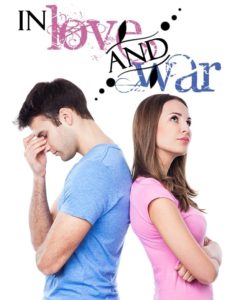 Lassoed by Love By Miralee Ferrell
Lindsey Morgan is struggling and she can no longer afford the life she's been living. The exclusive boutique she managed recently closed. Ready for a new adventure, she accepts a job at a resort. What could go wrong working at a gift shop and laying by a pool during her off hours? What Lindsey didn't expect was Steven Graham, her high-school crush, showing up–as her new boss. Steven isn't the shy, red-neck teen she'd known six years ago. He's somehow morphed into a gorgeous, aloof, more refined man. Too bad he thinks she's still the spoiled cheerleader he thought had snubbed him, but she'd change that assumption if it killed her–and with the new job description she'd been handed, it just might!
Designed with Love By Kimberly Rose Johnson
To save her fledgling landscape business, Jessie Morgan is determined to win an important design competition–even though her major competitors are ex-fiancé Brendon Jacobs and one-time best friend Scott Meyers. Tensions are high in the quaint town of Silver Springs, Oregon as neighbors and friends take sides. Will Brendon drive Jessie and Scott farther apart, or will they join forces…and find love in the process?
More Than Meets the Eye By Trish Perry
Jensy St. Martin is not pleased when she recognizes the latest ad man to join the Washington, D. C. agency she has long considered her professional home. Phil Quinn was a cocky, love-'em-and-leave-'em type when they attended the same high school ten years ago, and she senses he hasn't changed much since then. When the two ad designers are forced to work together on a campaign, Jensy learns more than she wants to know about the man, and his growing attractiveness becomes the least of her worries.
Hungry Hearts By Debby Mayne
When Cameron Prater returns to Hyacinth, South Carolina, to open a restaurant a few doors down from his childhood sweetheart Melissa Shaw's diner, they are both reminded of the fierce competitiveness that drove them apart. They even try to outdo each other while volunteering for a women's shelter that their church sponsors, and they deny the fact that the sparks that brought them together years ago still zing. Can these two people put aside their rivalry–and their pride–and let their hearts take over?
Purchase on Amazon HERE
Historical Romance Collection by Four Best-selling Authors
Miralee Ferrell, Susan Page Davis, Yvonne Lehman and Vickie McDonough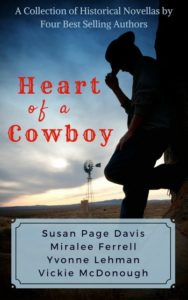 Hearts in Pursuit
By Susan Page Davis
Can Abby and Sam fight their way through the danger and violence and live long enough to find love?
Texas, 1880. Abby and Sam pursue a band of raiders to rescue their younger siblings. Abby's father is gravely injured, and she knows she can't return home without her little sister. Sam's father wants to thwart his powerful Mexican father-in-law and stop him from taking Pablo to live with him south of the border, but once he has Pablo back, will he continue the search for Abby's sister? Abby and Sam feel it is up to them to keep the recovery mission on track. Though romance seems to have no place on the trail of danger and violence, can this journey draw them closer?
Hearts Reunited
By Miralee Ferrell
Mercedes Taylor is determined to save her ranch after her father's death, but she won't let anyone help—especially not her old friend Jesse Townsend who deserted her so many years ago. The pain his family inflicted on hers goes too deep for her pride to forgive.
After riding the trail for five years, Jesse Townsend returns to his family property to find the girl he'd once loved all grown up—and more prickly than he's ever seen her. After his mare is seriously injured, he has no choice but to call on Mercedes—the local animal doctor—for help.
Add the attractive banker's daughter who Jesse seems smitten with, and trouble starts brewing. Can Mercedes and Jesse set aside the old family feud and find their way back to the love that had only started to blossom when Jesse left?
Have Dress, Will Marry
By Yvonne Lehman
Julie Hayes must escape from Wildcat Mountain. Her mother died, leaving her with a step-father she doesn't trust.
James, who she thought would be her means of escape, is gone. Her only hope is to approach the cowboy, saddleback preacher Timothy Sullivan, when he makes his circuit into Wildcat Mountain. She asks, "Will you marry me?" He says, "Yes, of course," expecting to perform a ceremony for her and James.
Believing Julie is in danger, Timothy takes her to the Sullivan Ranch. Suspicions abound when she's accused of stealing a horse and jewels.
While Julie is trying to become the kind of woman a preacher would want to marry, Tim is trying to realize his ranching dreams, which don't include being a circuit riding preacher.
The Hand-Me-Down Husband
By Vickie McDonough
Ellen Stewart despises Lance Garrett. If not for him dashing into Isabelle's life and stealing her heart and filling her head with his dreams, her little sister would still be alive and safe at home. When she receives Lance's letter requesting help, Ellen rushes to Silver Springs, intent on taking charge of her young niece. A rugged ranch is no place for a motherless baby. But when she realizes the depth of Lance's despair, she can't leave him alone. Though everything within her wants to flee back to the big city, something makes her stay. Tessa needs her father, for one—and he needs her. Ellen knows what it's like to lose all she'd dreamed of. When local church members make a stink about Ellen living at Lance's ranch, they are forced to marry. Ellen didn't want a hand-me-down husband, but could their marriage be God's will for them both?
Available on Amazon HERE
The Cowboy's Bride Collection: 9 Historical Romances Form on Old West Ranches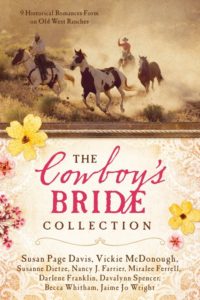 Nine different authors including Miralee Ferrell
Old West from Kansas to New Mexico, Colorado to Texas. Whether rounding up cattle or mustangs, training horses, fending off outlaws, weathering storms, competing in rodeos, or surviving drought these cowboys work hard each day. But when hardheaded men have their weaknesses exposed by well-meaning women will they stampede away or will a lasting love develop? Find out in this exciting collection of nine historical romances.
Purchase a copy at any online vendor and many bookstores
12 Brides of Summer–Chose a copy of all 12 stories, or a three-in-one below
3 Book Collection of novella's–Miralee Ferrell–Margaret Brownley & Pam Hillman
Love Is Buzzing in the Good Old Summertime!  Spend the sunny days of summer relaxing with an ice cold glass of lemonade and revel in the dreams of twelve brides who are a bit surprised by how the men of their dreams come into their lives.  Journey to the Old West, stay on the prairie, and visit quaint small towns. . .without leaving the comfort of your own front porch!
The dog days of summer are here, but love is still in full bloom with Novella Collection #3:
 The Nativity Bride
Part of The 12 Brides of Christmas Collection available now
Sh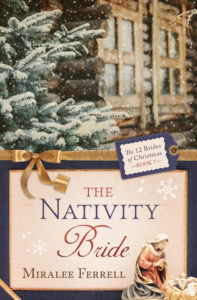 ilo Run Press/Barbour Deborah Summers has waited five years and prayed for Curt Warren to return to Goldendale, Washington, passing up another marriage proposal by believing in her first love. When tragedy finally brings Curt home, will a rift with his father drive him away too quickly, or will he stay and try to win Deborah's heart again?
Dreaming on Daisies — Book four in Love Blossoms in Oregon
The Ranch Wasn't All She Could Lose Fiery redhead Leah Carlson will do whatever it takes to save her family ranch. Somehow, she must cover her father's debts, brought on by his drinking—even if it means asking handsome banker Steven Harding for a loan. When he must decline, Steven vows to assist this captivating woman. After a mining accident destroys his home, serving as her part-time ranch hand seems the ideal solution. Until Leah's family secrets, and the pain of her past, come to a head. They could destroy everything she's fought for, including the spark of love that may never have a chance to flame.
Wishing on Buttercups — Book Three
Can Love Survive When Secrets Collide? She'd kept her secrets safely hidden—those from her past, and those in the present. Some things, Beth Roberts knows, a lady simply doesn't share, even in the 1880's West. The townspeople would never understand. No one ever has. Jeffery Tucker, a handsome young writer, has kept his own secrets. He doesn't have a right to pry into Beth's affairs but finds himself strangely drawn to her and intrigued by the whiff of mystery surrounding her. Beth knows that one day someone will unravel the threads of her past. And when two men from her past arrive, the truth might just hurt . . . Beth's future and her heart. As shadowy memories surface, Beth sketches the scenes she sees and is shocked by what—and who—her illustrations reveal. Dare she risk her heart again?
Forget Me Not — Book Two 
A Novella, releasing in eBook format for Kindle and Nook, and paperback on Amazon in late March 2014 Can a Lost Love be Redeemed? Seven years ago, Julia McKenzie rejected the man she loved, wanting to experience more of life. Now, at the age of twenty-four, she regrets that decision. What will Seth think of her, when they encounter one another hundreds of miles from home? Will the man she cared for understand the direction her life has taken and love her in spite of her choices? Pastor Seth Russell has never completely forgotten the girl he once courted. When she shows up in his new home of Baker City, all those feelings return. But why is she sneaking around town late at night? Even more important, will she reject him and break his heart again?
Blowing on Dandelions — Book one
In the Love Blossoms in Oregon series
Do Dandelion Wishes Actually Come True? Katherine Galloway knew this moment of calm wouldn't last, blown away like the dandelion seeds she scattered as a girl. In 1880, three years after her husband's death, she struggles to run an Oregon boardinghouse and raise two girls alone. Things don't get easier when her critical, domineering mother moves in. Katherine must make the situation work, but standing up for herself and her family while honoring her mother isn't easy. And with a daughter entering the teenage years, the pressure on Katherine becomes close to overwhelming. Then she crosses paths with Micah Jacobs, a widower who could reignite her heart, but she fears a relationship with him might send things over the edge. She must find the strength, wisdom, hope, and faith to remake her life, for everything is about to change.
Finding Love in Tombstone, Arizona Summerside Press (first published as Love Finds You)
This is the sequel to Love Finds You in Last Chance, California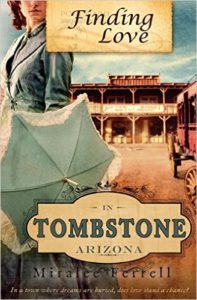 In a town where dreams are buried, does love stand a chance? Love and second chances aren't easy to come by in a town named Tombstone. When Christy Grey receives an urgent summons to Tombstone, Arizona, she reluctantly leaves her new life in California. The trip goes from bad to worse when four masked men hold up Christy's stage. She finally arrives in Tombstone to find her mother ill and her brother trapped in a life of gambling. Desperate for money to support her family, will Christy bow to pressure from the local saloon owners and return to the life she thought she'd given up for good? Nevada King has problems of his own. He's been dodging bullets for years and wants nothing more than to settle down and get married. But he's on the run from outlaws bent on revenge, and the one woman who captures his interest recognizes him from the stagecoach holdup. Will Christy turn Nevada in to the authorities, or will the outlaws on his trail catch him first?
Finding Love in Bridal Veil, Oregon
Previously published as Love Finds You
Amidst a backdrop of thievery and murder in historic Bridal Veil, Oregon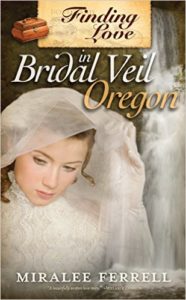 , a schoolteacher is torn between the memories of a distant love and the man who could be her future. Margaret Garvey had given her heart to Nathaniel, but he left town six years before. Now she's giving love another chance, but her decision to build a new life with Andrew is shaken when Nathaniel steams back into Bridal Veil on a riverboat to work at the nearby sawmill. When disaster strikes the town and threatens the welfare of its citizens, Margaret will be faced with the most important choice of her life.
Finding Jeena
Sequel to The Other Daughter
Jeena's new job with Browning and Thayer promised big things, and she intended to take full advantage in every way she could. New clothe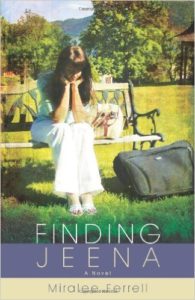 s, new townhouse, new car, and new furniture were just the start. Rumors around town cast her new boss in a shady light, but she set aside her uneasy feelings…the money was good and his ethics weren't her concern. A few weeks later her world began to shake. Her salary wasn't paid on time, and things were happening in the office that didn't bode well for her future. Money was missing, and the investors were making trouble. Her boss disappeared, and leaving his partner to take the fall, along with anyone else associated with the company. Jeena's carefully crafted world began to crumble and her struggle with alcohol began to rear its head again. Dragged into court to be interrogated was only the beginning….
The Other Daughter
The girl standing at the door took a deep breath, pulling her suitcase a little closer to her trembling legs. "My mama's dead. He's my daddy." Susanne Carson knows that she can trust the love of her life—her husband, David—until she discovers a strange, unkempt young girl on their doorstep, claiming to be David's daughter. Not that their marriage has ever been perfect—David's decision to embrace the Christian faith has strained their relationship. Susanne may not agree with his beliefs, but at least she trusts him. Has David been hiding this not-so-little secret from his past? He wants Susanne to believe in God, but believing hasn't done much to keep David out of another woman's arms. What else could her husband be hiding? As David confronts the truth of his past, Susanne must face her own moment of truth as her marriage is taken to the breaking point and the life of one young girl is left in her hands.   A Cup of Comfort for Cat Lovers Adams Media Cup of Comfort is a compilation of 50 different true life stories that will touch the hearts of cat lovers. My story is called Mountain Mama's Main Man,and tells about a very sweet experience my husband Allen had with our female cougar, Sierra, when she gave birth to cubs. It's placed third in the book, and you don't want to miss it!