A New Adventure is Coming
A New Adventure is Coming
I think it's safe to say that the majority of authors would love to see their words translated to film, whether it's the big screen or the small screen (TV). I'm soooo excited to share that that dream is coming true for me.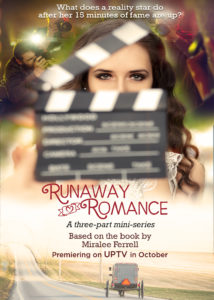 My book that releases in September has been optioned as a movie and will release on the UP Channel (family friendly) in either October or November. We're waiting for the airing date, and I'll share it when I know for sure.
It's a contemporary story of a young woman who worked in Hollywood as a reality star, then ran away from that life which left her feeling empty and landed in the middle of Amish country in Pennsylvania. Of course, there's a romance involved, along with a faith thread. I hope you'll give it a try when the book releases, as well as setting your DVR for the movie. You can find the UP Channel on DirectTV, DishNetwork, along with cable (like Charter, etc).